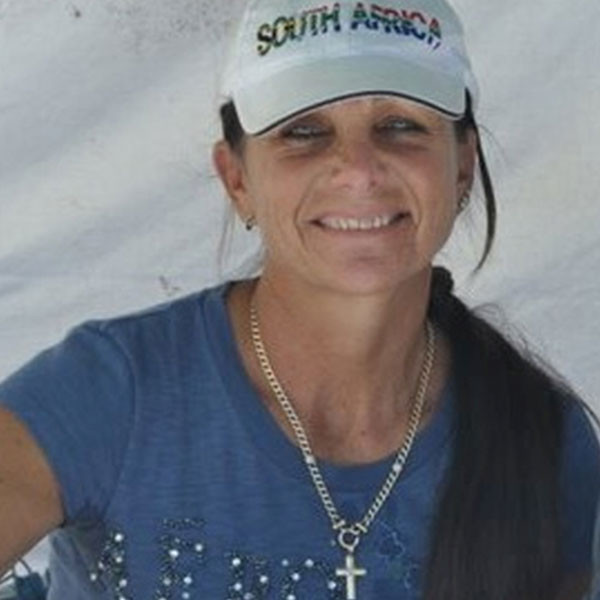 Read bio
Personal & Qualifications
Born Barbie Haug in Port Elizabeth
FEI Level 1 coach
FEI Level 2 coach
National Judge (Equitation)
Candidate National Judge (Dressage)
Provincial Judge (Showing & Vaulting)
SANEF coach
1978  – Dip. Cur. Anim,

 

(Onderstepoort)
1980  – Established Riba Stables (riding school, instruction and livery yard)
2019 – FEI Level 2 tutor Vaulting
Riding Achievements
Adult:
A grade (Show Jumping)
Prix St Georges

 

(Dressage)
Intermediate (Eventing)
Winner of Derby Compleat Horse four times on different horses
Transvaal Provincial Colours (Showing & Dressage)
Child/Junior:
Open (Equitation)
CA & JA grade (Show Jumping)
Transvaal Provincial Colours (Eventing & Show Jumping)
Coaching Achievements
2013 – Coached Philip Smith Memorial Equitation Trophy Champion
2010 – National Coach: South African Vaulting Team (World Equestrian Games)
2008 – Coached Philip Smith Memorial Equitation Trophy Champion
1980 – present: Coached pupils into provincial teams in Show Jumping, Dressage, Equitation and Vaulting.
Coached Child and Junior Provincial and National Champions in most disciplines.
Equestrian Administrative Positions Held
2007 – Chef

 

d'Equipe: South African Vaulting Team (European Championships)
2005 – present: FEI Development Officer: Group IX Vaulting
2002 – 2006: Chairman: South African National Vaulting Committee
Read bio
Personal & Qualifications
A-Level (British International College)
FGASA 1
Vaulting Achievements
South Africa:
2014 – Trained horses at Dunkeld Equestrian Centre to do Roman Riding displays
2007 – Winner South African Open Individual Vaulting Championships
2004/5 – Member of the winning Junior Team – South African Championships
2004/5/6 – Winner South African Junior Individual Vaulting Championships
2003/4/5 – Member of the winning Mixed Vaulting Team– S A Championships
International:
2013 – Current: Member of the Dunkeld Vaulting Squad
2011 European Championships – Le Mans France
2010 World Equestrian Games Kentucky USA – South African Team – placed 9th
2007 European Championships Kaposvar (Hungary) South African Team – placed 9th.
2007 European Championships Kaposvar (Hungary) 17th

 

place.
2006 World Equestrian Games South African Team placed 13th 
2006 World Equestrian Games Aachen – 23rd

 

Individual Men's championship
2005 European Championships Brescia Italy
Coaching Achievements
2018 – Coach of gold and silver medal winners CVI CH 2* in Belgium
2017 – Coach of gold and silver medal winners CVI CH 1* in Belgium
2008 – 2013 employed part-time at Riba Stables, Kyalami, South Africa as a vaulting coach
2008 – Coached vaulting in Mauritius September – November
2006 – Current: Instrumental in coaching and organising of the FEI Group IX Africa Vaulting Cup. Coaching in Zambia, Swaziland, Mauritius and South Africa.
Read bio
Personal & Qualifications
Matriculated Greenwich College. (Studied correspondence through Cambridge (UK).)
Holds Protea colours for Vaulting
Holds provincial colours for Showjumping, Dressage, Showing, Vaulting and Equitation.
Owns and runs Kayla Gertenbach Equestrian.
Riding Achievements
2017 – Clear and placed in multiple Longines World Ranking classes in Lake Arena Summer tour, Wiener Neustadt, Austria.
2016 to 2017 – spent living, working, training and competing in Europe
2016 – 3rd place in the Silver tour 1.30m Championships at the Mediterranean Equestrian Tour, Oliva, Spain.
Member of Gauteng Showjumping, Vaulting, Dressage, Equitation and Showing teams
2014 – Produced horses to 1.50m
2013 – Selected as one of the top 3 young riders to take part in a clinic conducted by the trainer of the Olympic gold medal-winning Great Britain Showjumping team.
2013 – Leading Young Rider (age 16 – 21) in South Africa.
2012 – Jumped home bred and self-produced horse in the South African Derby.
2012 – Winner 1.35m Championship – Sunshine Tour in Durban
2011 – Winner 1.30m Championship – Revil World cup qualifier
2010 – Shortlisted for the Youth Olympic Games for show jumping
2010 – Member of the South African team at the World Equestrian Games in Kentucky, USA. Achieved 9th place.
2009 – Winner Junior Outdoor Grand Prix, Cape Town
2008 – Winner Philip Smith Memorial Trophy
2007 – Winner South Africa Equitation Championship Junior
2006 – Member of the South African team at the World Equestrian Games in Aachen, Germany
2004 – Winner South Africa Equitation Championship Pony Rider
Coaching Achievements
Currently coaching Juniors and Adults
Read bio
Personal & Qualifications
Riding Achievements
2018 –

Represented SA as the only individual at WEG Tryon North Carolina
Winner gold medal CVI 3* in Rugby, UK.

2013 –

Al Rosario: competed in Galencia Properties Derby, Winner 1.35m Classic, Winner 1.35m Micro-Derby Speed, 2nd & 3rd

 

in the Hilmar Meyer Series 1.40m and 3rd Junior Derby 1.30m.
Kinvara: Winner Junior Derby 1.20m, Winner Philip Smith Memorial Equitation Trophy.
March – April: 5 weeks vaulting in Europe: 5th

 

place CVIJ2* Saumur France and a 7th

 

place in CVIJ2* in Geel Belgium.

2012 – Won 2 South African titles along with riding in three provincial teams.

Member of Gauteng Dressage, Equitation and Show Jumping teams
Winner Individual Junior South African Equitation Championships on Locarno Nautilus
Winner Individual Junior South African Show Jumping Championships on Al Rosario
Winner Junior Dressage Derby. Top Rider on Alzu Last Time
2nd

 

Junior Derby and Winner Speed Class 1.30m on Al Rosario

2010 – Part of the South African team at the World Equestrian Games in Kentucky, USA
2007 – Part of the South African team at the European Championships in Kaposvar, Hungary
2006 – Part of the South African team at the World Equestrian Games in Aachen, Germany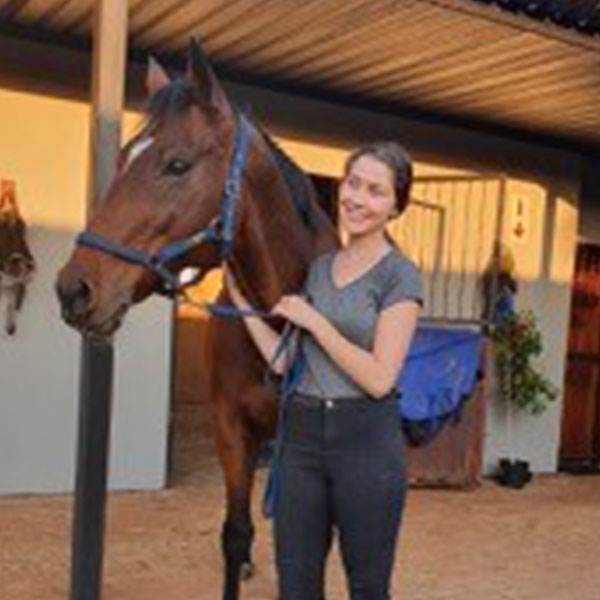 Read bio
"My passion for horses developed when I was 5 years old. My aunt had opened her very own stable yard and suddenly my home was flooded with magnificent four-legged creatures and I have never looked back! 
I started competing in SANEF shows when I was 7. I had many successful years, winning working riding classes, working my way up the showjumping grades and eventually even being ranked 25th on GHS for my show jumping level. But once I got my first horse, my life really changed. 
Raps was an off the track thoroughbred that we bought. He was incredibly strong, spooky and clever and tested every bit of my riding ability and patience. With the right instructor, I finally managed to learn how to work together with him. Had my instructor not invested in my life, I would have quit riding- the very sport that truly brings me the largest amount of happiness and peace. Here my passion for investing in others really started to take shape. 
I have developed a passion for horse rescue and I hope to one day open my very own rescue!" – Anel
Anel is excellent with nervous riders, showing great compassion and patience to every pupil.
Read bio
"I started riding at the age of 6. I have competed as a junior and adult quite successfully in many disciplines such as dressage, eventing and showjumping.
Some of my highlights were jumping at the post-Derby 1m class which was at the time still held at Inanda in Sandton and I also competed at the Sun City Indoor Showjumping competition. I have been trained by many instructors including Lachlan McLachlan, Ian Milligan, May Foxcroft, Shirley Green and of course, Barbie Gertenbach.

I moved my horse (and now horses) to Riba Stables almost 10 years ago and currently own Laurie (Classical Blues) and Daydream Jiveman.
I started teaching at Riba Stables 6 years ago and currently provide tuition in dressage, jumping, working riding and vaulting.
I have assisted many clients in bringing up young horses by teaching as well as riding their horses and have taught from very young beginner riders to more experienced riders.
I was also part of the SAPS Reservists Mounted Unit and we did many patrols on horseback in the Midrand area." – Annelise
Annelise also attended Tri-Nations Vaulting in Mauritius with Charlsy Loni.
Read bio
Donne vaulted some years back and competed for Gauteng.
She is a veterinarian by profession but has a talented daughter who vaults. Donne now teaches vaulting once a week.
She is also a good rider.
Read bio
Nhlanhla started riding at the age of 13 with Enos Mafokate (Soweto Riding Centre). His main discipline was vaulting.
He went on to do Horse Mastership Modules 1 and 2 at Beaulieu College.
In January 2018, he approached Riba Stables for a job.
Due to his earlier focus on vaulting, he started to work on his riding skills with Barbie and Kayla. He started jumping in 70cm to 80cm classes and has now moved up to 1m. At his very first 1m show, he placed 2nd and has picked up many places since. In 2019, he placed 5th in the Invitational Class at Derby. In 2020, he placed 8th at the Outdoor Grand Prix.
He is an animal person with a great passion for horses and places the well-being of the horse first. With his likeable personality, he has become a firm favourite at Riba Stables.
Nhlanhla has learned a lot of Kayla. He says Kayla has taught him, not only patience with horses but in life as well. He currently helps Kayla bring on horses off the track for her KGE Second Career Initiative. From Barbie, he has learned to be firm but fair. As much as he finds it challenging, he perseveres in his flatwork lessons with Barbie.
He often gets comments from top riders who watch him – they say that he has really good 'feel'. The improvement he is showing is due to the fact that he rides many different horses and he is passionate about learning from Kayla.
His dream is to one day own his own stable yard but his short term goal is to get a horse he can call his own. He is currently competing on one of Riba's old schoolmasters called Chet Baker.
Nhlanhla is busy preparing for his lunging for vaulting exam.
Thank you to Natasha Williams who donated her dressage saddle to Nhlanhla and given him permission to sell it to buy a jumping saddle. A mention also goes out to Dee Palm who is helping him find the right saddle. Nhlanhla is now one step closer to achieving his goals thanks to your generosity.
Read bio
"I am 29 years old and have been teaching since the age of 21. All ages, levels and disciplines.
I have taken numerous riders through SANESA, some of which won their level of competing.
I myself, have competed in dressage shows up to Novice level but doing Elementary level at home.
I also have qualifications in disabled as well as therapy riding, and I have done my Level One Horse Behaviour course through the Ethology Academy." – Renske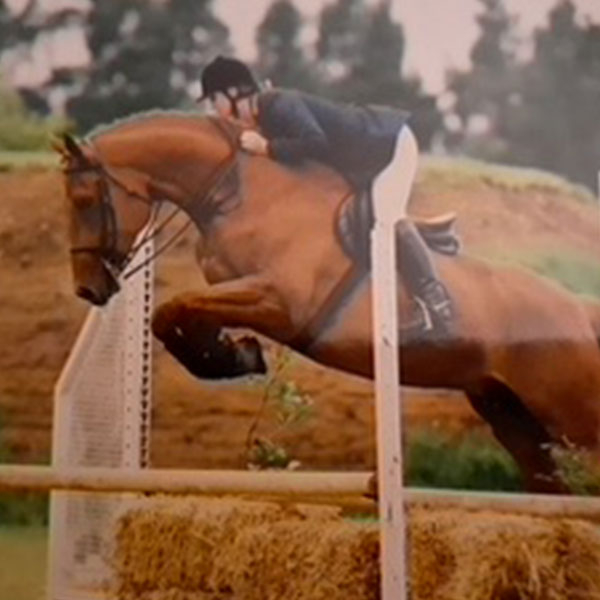 Read bio
Sharon was born into a horsey family – her mom and sister also rode and competed successfully for many years. She learnt to ride all kinds of horses and ponies by backing and schooling youngsters to sell on.
She brought on her thoroughbred to jump JA and Adult B grade successfully.
She has completed for more than 30 years in jumping, showing and eventing and has been selected for the Gauteng Central team for showing and dressage for several years.
Sharon was selected for the SA Jumping Team at the Inter-Africa Cup at Easter Show in 2010.
She has backed and brought on numerous horses from thoroughbreds, welsh ponies off the mountain and warmbloods who went on to compete successfully. 
Sharon competed in junior and adult open equitation and was in Gauteng team for equitation for several years.
Sharon is a great asset to Riba Stables as a part-time coach. She is kind, patient and extremely knowledgeable, taking great care of the well-being of all the special horses and ponies at the yard.
Read bio
Willie started in riding in Cape Town with Paul Garlicki.
In the South African National Service, Willie rode with Commandant Stark and Major Kraal Kampfer.
After the army, he worked at Chinta Park for 21 years until the yard changed ownership – during this time Willie rode and worked with Dominey Alexander, Adriaan van Wyk, Susan Bass, and Jonathan Clark.
Willie is mainly a showjumping coach but also did compete in dressage up to Novice champs level.
He jumped several horses up to 1.35m
He also evented a little at Novice level and competed at Sappi Horse Trials.
Willie has dedicated his life to coaching kids and junior show jumping riders.
When the schools league sent a Junior School Springbok showjumping team to Australia, Willie was the team coach – out of 85 teams, their team achieved 6th place.
Anke Lampen and Emma Deetlefs were two of his good junior pupils who went on to achieve a great deal.
Willie has also done some course building.
He has been a coach at Riba for approximately a year and is very popular with adults and children alike.
Read bio
Willy van Ek has been involved with horses her whole life. She is our Accounts Manager. She is 75 years old and has an old, retired thoroughbred at Riba Stables.
For many years, she ran Pony Club in the area which is sadly not as strong as it was years ago but it was an invaluable part of the equestrian upbringing of all pupils.
Read bio
SANEF Instructor Level 2
1963 – Began riding at Muriel Higgs Riding School
1964- 1994:  Competed in all Equestrian Disciplines including Show Jumping, Dressage and Gymkhana.
1978 – 1982: Employed by Anglo American to teach all equestrian disciplines  at Oranjemund Riding school
1982 – SANEF Instructors Certificate – Level 2 SANEF Coach
1982 – 1984: Taught all equestrian disciplines at Back of the Moon Stables in Kempton Park.
1985 – 1986: Employed by Anglo Vaal to teach at Mine Stable in Stilfontein.
1987 – 2000: Owned Moonraker Stud and Bred Welsh Ponies, Partbred Welsh Ponies and Warmbloods. Also taught all disciplines to baiters in the yard.
1988 – 1999: Ran Equestrian Club at Midrand High School.
2000 – 2005:  Moved Moonraker Stud to Crowthorne.
IN MEMORY OF – Errol Wucherpfennig
Read bio
Although Errol is widely known, respected and endeared by the South African and International riding community as one of the world's top show jumpers in his time, it is also his ability in the workplace which truly stands out and illustrates his diverse capability.
His enterprising character-focused methodological approach and intelligent flair as a sportsman.
Errol is a well-known legend in the horse riding world and has won almost every major showjumping title during his career.
Personal & Qualifications
RSA provincial footballer
Provincial boxing champion
Springbok showjumper
Riding Achievements
Adult:
Won the South African Show Jumping Championships twice on Compass Line and Marble Hall.

'Compass Line' won the South African Show Jumping Championship, the South African Outdoor Grand Prix and the Rothmans Derby in the same year which was an amazing achievement
Marble Hall also won the South African Outdoor Grand Prix

Awarded the State Presidents Award by Magnus Malan
In 1982, he won the South African Sports Merit Award presented by The honourable G van N Viljoen the minister of National Education
Internationally, Errol competed in Bremen Germany, the UK, La Baule France, and San Diego USA
Child/Junior:
Won the South African Show Jumping Championships twice on Warrior and Russian Girl
Coaching Achievements
Current successful coach of young riders including Chelsey and Kayla Gertenbach as well as adults such as Arnold Botha